ready for my favorite branding of 2015? good! so...
it's a wedding.
a couple of months ago my friends emma and miguel got married in mexico city, and with the help of the insanely talented isabel from tinta y calamar they created a wedding suite that made this design-lover's heart skip a beat.
from the save the date to the table numbers and the skulls on the place settings, the design was consistent and unique. it was very mexican but the theme never translated as cheesy, just as a consistent thread. and THE DETAILS. to have this level of detail and this amount of color in anything and still make it feel clean is incredibly difficult. isabel incorporated laser cutting, hand painting, skulls, the couple's names, tons of color, the list goes on. but the overall look was consistent and so cool. as you'll see, the main elements of the wedding (and the paper suite) were a mexican sugar skull, papel picado (the laser cut paper) and rosa mexicano, a specific shade of hot pink.
i am so excited to share isabel's work - as well as emma and miguel's vision - with you. it's a beautiful example of how much love and work goes into weddings. it's a lesson in design. and it's branding at it's best, from an unexpected source. the fact that it was for emma, who i've been friends with since we were 15, is just the (mexican) cherry on top.
ok! let's start at the top.
first / the save the date postcards:
next / the full invitation suite: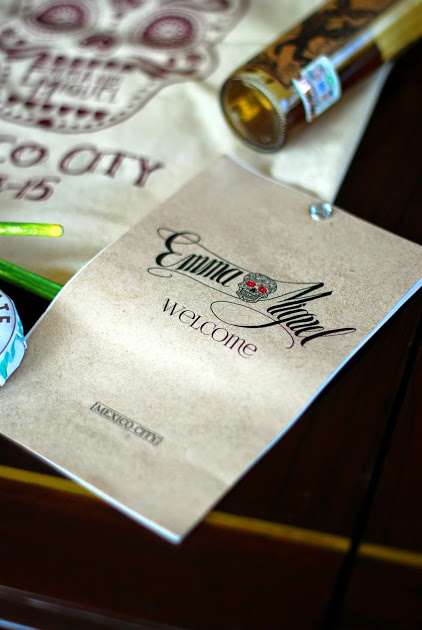 finally / at the wedding:
beautiful, right? thank you, isabel, for your beautiful work. y que vivan los novios!